Sorpresa! Surprise! This summer, we are opening a new tasting room in Los Angeles.
We are please do announce that the Filippini Family are executing their latest vision: Mangia & Bevi by Le Vigne – a place to eat, drink, and have a good time, without the long (but undeniably beautiful) drive to Paso Robles. Just south of LA's Arts District, they have chosen a beautiful red brick building with one large tasting room and two private tasting rooms amongst the industrial warehousing of Vernon for this new creative endeavor. The outside will soon be flourishing with re-planted zinfandel vines right from the Domenico Estate Vineyard in Paso Robles.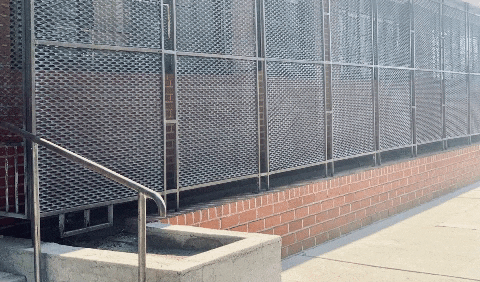 Guests will have the option to sit outside at one of the upcycled screen printing frames left by the previous tenants that we have turned into tables.
The welcoming tasting room offers a classic yet modern look. If you have been to the winery and tasting room in Paso Robles, you know that guests are instantly transported to Tuscany with its terracotta roof, crumbling stone walls, rustic accents, and surrounding vineyard. Their focus is to provide excellent hospitality while pouring premium wines. At Mangi & Bevi, that philosophy will stay the same. 
Los Angeles natives may remember Walter and Sylvia's restaurant in a train car called Il Treno. They have missed cooking for their guests so we will be offering take and bake meals including lasagna, Bolognese, pizza, tiramisu, and much more. Want to chef-it-up yourself at home? Our little market in the tasting room will be fully stocked with the best items available from Europe with focus on Italian goods. We will have everything you need for a complete meal: fresh bread, olive oils, dried pastas, sauces, spices, snacks and sweets, and the list goes on!
And let's not forget about the cheese! The Filippini family are long-time importers of artisan cheeses, charcuterie, pâtés, olives, butters and various other gourmet commodities. While visiting us for a wine tasting, we will have a rotating cheese flight to pair with each wine on the list that was prepared next door at our sister company, Peacock Cheese. Just stopping by? We will always have an extensive cheese selection available to take home.  
Espresso will be available for your trek to work in the morning along with fresh pastries, before opening for wine tastings. Walter generously whipped up an amazing yet simple lunch today in the kitchen at the Peacock Cheese warehouse for the staff. He did not have to go out of his way to do that and he has probably been here since the break of dawn working in distribution. But that is the style of hospitality here – we will make sure you are fed and well taken care of like family, no matter who you are. This is something that is deeply engrained in the Le Vigne culture and we intend to provide that same experience at to you at Mangia & Bevi.  
We look forward to seeing old friends and making new ones a part of la famiglia.
"A tavola non si invecchia"
(You don't get old at the table)
It means that with good company and good food, time doesn't pass. You can spend hours chatting over a meal with friends and it will never be time wasted." – Gina Mussio @ginamussio
See you soon! Ciao! 
Follow us on Facebook @LeVigneWine and Instagram @LeVigneWinery for more information about the official opening date.